Louis Vuitton Speedy 20 Review
$1,890.00
Louis Vuitton Speedy 20 Review
Description
The History of Louis Vuitton's Speedy
The Speedy was Louis Vuitton's first handbag designed for everyday use and its origins come from its bigger brother, the Keepall. The first Speedy launched by LV was a Speedy 30. Shortly after, Audrey Hepburn fell in love with the bag but requested a smaller size to be made, and so, at the request of the actress, the Speedy 25 was born – which remains one of the brands most popular bags.
The Speedy bags now come in 4 sizes, 20, 25, 30 and 35 and all these sizes except the 20 come in two versions: the original one without the strap, and one with a strap called the Bandoulière. As you can see in the table below, Speedy B(andoulière) are considerably more expensive than their strapless counterparts.
| Bag | Size | Price 2022 |
| --- | --- | --- |
| NANO SPEEDY | 6.3 x 4.3 x 3.5 inches | $1,320.00 |
| SPEEDY BANDOULIÈRE 20 | 7.9 x 5.1 x 4.7 inches | $1,890 |
| SPEEDY 25 | 9.8 x 7.5 x 5.9 inches | $1,350 |
| SPEEDY BANDOULIÈRE 25 | 9.8 x 7.5 x 5.9 inches | $1,690 |
| SPEEDY 30 | 11.8 x 8.3 x 6.7 inches | $1,370 |
| SPEEDY BANDOULIÈRE 30 | 11.8 x 8.3 x 6.7 inches | $1,740 |
| SPEEDY 35 | 13.8 x 9.1 x 7.1 inches | $1,390 |
| SPEEDY BANDOULIÈRE 35 | 13.8 x 9.1 x 7.1 inches | $1,800 |
Speedy 20 Bandoulière – the new Speedy in Town
The Speedy 20 is the smallest of the Speedys and Louis Vuitton's newest addition to the family. It was introduced in October 2021 and it's already a cult bag, almost impossible to get a hold of, especially in the coated canvas.
The Speedy 20 is currently available only in the Bandoulière version, which means that it comes with a strap. At the moment, there are 2 versions of the bag available: in coated canvas monogram or in the Empreinte leather. The look of the bag is quite different in our opinion, especially due to their strap.
The Speedy 20 B in monogram comes with a wide detachable textile strap with a woven Louis Vuitton signature – which makes the bag quite cool and casual, even slightly sporty.
The empreinte leather SpeedyB 20 comes with a leather & chain strap, that is adjustable and it gives the bag a much more elegant and dressy feel. We would definitely feel comfortable using the leather Speedy 20 in the evening as well as in the day time.
The full list of features according from louisvuitton.com for Speedy B 20 Empreinte
Embossed grained cowhide leather
Cowhide-leather trim
Microfiber lining
Gold-color hardware
Double zip closure
Inside flat pocket
Padlock
Strap:Removable, adjustable
Strap drop: 19.3 inches
Strap drop max: 21.3 inches
Handle:Double
The full list of features according from louisvuitton.com for Speedy B 20 Canvas
Monogram coated canvas
Textile lining
Natural-cowhide trim
Gold-color hardware
Padlock
Inside flat pocket
Strap:Removable, not adjustable
Strap drop: 19.7 inches
Handle:Double
Size
8.1 x 5.3 x 4.7 inches for the Empreinte Leather Speedy

7.9 x 5.1 x 4.7 inches for the Monogram Canvas Speedy
Versatility
When determining if a bag is "worth it" or not, we often look at its versatility. So, what about the Speedy 20, is it a versatile bag? Well, one point that it has for it is the many ways that one can wear the bag: hand-held, in the crook of your arm, on your shoulder with the longer strap or cross-body. This is a huge plus because it pretty much caters to everyone.
In terms on when can you wear this – it depends a lot on what you need to carry with you. It can be a great everyday bag, errand bag, brunch bag, shopping bag and even work bag (obviously if you don't need to carry a lot with you) and an evening bag if you go for the empreinte leather (or even the monogram without the strap). It's not extremely versatile for someone that tends to carry more with them – for example if you want to carry a book or a water bottle you might need something more roomy (like a Neverfull if we're sticking with LV).
Staying Power
The Speedy is a classic bag which has been in production for about 90 years, and although the Speedy20 is a new bag we believe that it will also be a part of Louis Vuitton's permanent collection. Sure, it is a mini bag, which may be a bit trendy, but it's not a super-mini-micro bag that screams 2019, so we believe that even though bigger bags are becoming more popular, people will always still buy smaller bags if they fit their needs. We see the strap on the canvas Speedy 20 as being quite trendy, however, it can easily be replaced with another Louis Vuitton strap if you feel like it has dated.
Price – How much does the Speedy 20 costs?
The monogram Speedy 20 is the most affordable option, and it costs $1,890 in 2022. The Empreinte leather comes in two colors: black with gold hardware which costs $2,440 and slightly iridescent blue with silver hardware which is $2,590.
Interestingly, the Speedy 20 Bandoulière is the most expensive out of all the sizes – which could be because of its novelty fabric strap or because Louis Vuitton is capitalising on the "small bag trend". The Speedy 20 was launched in October 2021 so we're not sure if it's going to be included in Louis Vuitton's next price increase – but we wouldn't be surprised if it was.
What fits inside the Speedy 20?
A smartphone

A cardholder or small wallet (a compact bigger wallet also fits)

Keys with a key pouch

Makeup pouch

Sunglasses with a soft pouch
Do you have the Speedy 20? Leave your review below & help the community
*Fashionphile affiliate link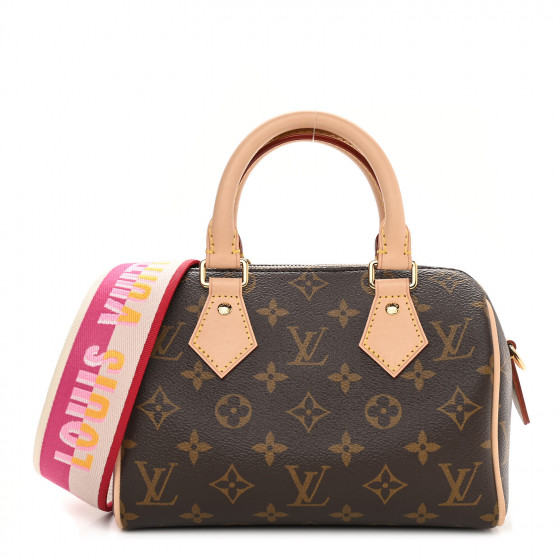 All Products